Real Estate CPAs Flower Mound TX
Did you know that there are CPAs who specialize in real estate? With all the ebbs and flows in the real estate market, the tiresome record keeping, and the endless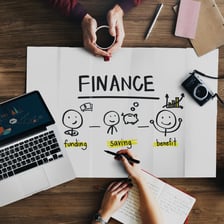 list of financial management tasks to be done—it's oftentimes easier and more cost-efficient to work with a CPA to handle those tasks. Our Flower Mound CPA firm offers various accounting services that can offer you stability and help you grow your real estate business. Our services include:
Strategic tax and financial planning

Budgeting and forecasting

Real estate accounting services, including cash flow analysis

Helping determine the appropriate business structure for both financial and legal purposes

Property valuations
When to Hire a Real Estate CPA

There are several variables that factor into making the decision of whether or not you should hire a CPA. What is your realistic need for an advisor? What is your working knowledge of tax code? What is your tolerance for risk? The answer to these questions will help you determine if working with a real estate CPA is right for you.
The right specialist will do a number of things for your real estate business. A CPA, like any of our qualified team members at Chandler & Knowles, will help you stay organized by gathering and sorting all financial documents, thus allowing you to have an accurate view of the money that's coming in, the money that's going out, and what your current real estate holdings look like.
How to Pick the Right CPA
1. Look for a real estate specialist
The more experience the better. They will be better equipped at facing problems you might be unfamiliar with.
2. Research credentials and accreditations
Just because a CPA passed their exam each year doesn't mean they will be the right fit for you and your needs. You'll want a CPA who passed with an above average score, but has also gone on to pursue other accreditations.
3. Read reviews
Always do your own research when it comes to CPAs. Online reviews can be very helpful for painting your own picture, just remember to take everything with a grain of salt—sometimes bad reviews can be skewed and untrue.
4. Ask for referrals
It's always good to ask for referrals for any important decision, including finding a trustworthy CPA.
---
Visit our Flower Mound Real Estate CPA Firm
Chandler & Knowles offers honest and accurate real estate CPA services. Whether you're a single real estate agent or you're a large real estate firm, you can trust our team. For more information about our real estate CPA services, contact us today.